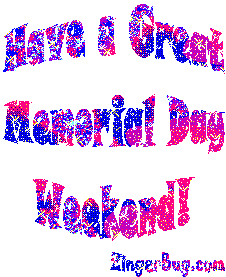 Have a safe and fun holiday and don't forget what Memorial Day really is about.
I'll hopefully have some pictures of my newest nephew sometime Saturday or Sunday ( I have 14 nieces and nephews and I'm a great Aunt 3X). We are going to watch the parade Saturday, and hopefully he won't be frightened of the loud noises.
Oh, and one final note...don't forget to visit my renter! You'll love his photography!